Narragansett, RI Nail Salon
Magic Nails Salon
Magic Nails Salon in Narragansett, RI provides the finest services in nail care in a relaxing environment, and with a friendly atmosphere. Our professional staff is well-trained technically and artistically. We are equipped with the best in nail care technology. We stock only top of the line professional nail care products. We are the finest house for nail care and the best pampering house for both ladies and gentlemen. We accept walk-ins. We specialize in liquid gels.
Learn More About Magic Nails Salon:
Nail enhancements
Color gel
Art designs
Manicures / pedicures
Paraffin treatments
Children care
Liquid gels
And more
We serve Narragansett, Wakefield, and South Kingstown, RI. Gift certificates are available.
Call Magic Nails Salon today at 401-789-1166 for all of your Narragansett, RI nail care needs.
Here's How We Provide Our
Clean & Safe Services for You:
This is not mandated by the state, but we feel this option further adds to the clean and healthy environment at MAGIC NAILS. Simple, easy, but oh so important.
All Stainless Steel Tools are Sterilized in a Autoclave and Sealed in Disposable Sterilization Pouches.
Autoclaving is the highest level of sterilization, and is standard procedure at dental and medical facilities in the U.S. (in accordance with AMA, FDA and EPA guidelines).
As soon as the stainless steel tools are removed from the autoclave, they are sealed in disposable Sterilization Pouches. These are the same Sterilization Pouches dentists use. Our sanitized tools are opened from their protective pouches when we begin your manicure or pedicure, and the pouches are thrown away.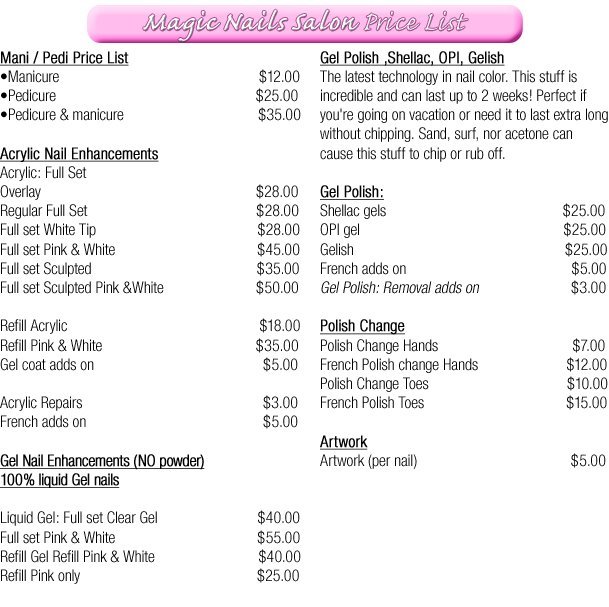 Hours of Business:
Monday - Saturday: 9:00am - 7:00pm
Sunday: 10:00am - 5:00pm

Methods of Payment: